VASE-SHAPED AIR HUMIDIFIER
Brighten your room and soothe your sinuses with our superb oil diffuser. In addition to its uses in aromatherapy, this essential oil diffuser also functions as an air purifier and a humidifier.
Use it to improve your home's air quality, cover the smell of pets or smoking, and protect your family from excessively dry air, microorganisms, allergens, dust, and more! Eliminate germs in your area and purify your air in a time like this to keep your loved ones safe and in an enjoyable environment!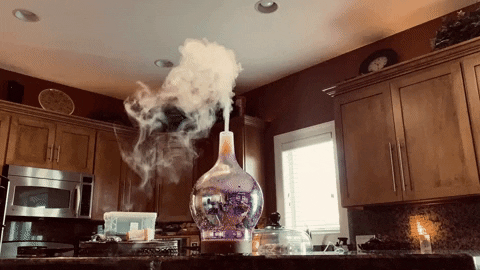 Our fireworks diffuser looks like frozen fireworks and unlike any other diffuser!
 A changing range of colors as its LED lights pass through   7 fascinating colors offering hours of relaxation. Contains up to 1 liter of water which lasts   4 to 8 hours before the automatic shutdown without water, but you can set a timer for 1 to 2 hours.
 Don't hesitate to add oils and start with a few drops. We certainly recommend peppermint, especially in winter! 
-  Relaxing and soothing for better sleep  
  Easy to clean 🧼
- High quality strong mist sprayer 🌬️
- Glass cover illuminating 3D 💎
Essential oils and aromatherapy diffusers have a variety of benefits, including helping you  sleep, elevating your mood, easing breathing, eliminating pain, helping cognitive function, preventing disease, repealing inspections and cleaning your House.
Free
Shipping

Fast
Delivery

Lifetime
Warranty